Teleperformance ha conquistato la cima della PEAK Matrix 2016 di Everest Group come leader del Call Center in Outsourcing.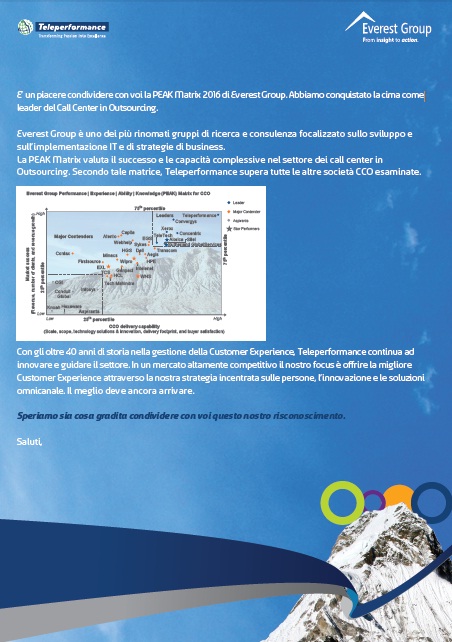 Everest Group è uno dei più rinomati gruppi di ricerca e consulenza focalizzato sullo sviluppo e sull'implementazione di IT e strategie di business.
La PEAK Matrix valuta il successo e le capacità complessive nel settore dei Call Center in Outsourcing.
Secondo tale matrice, Teleperformance supera tutte le altre società CCO esaminate.
Con gli oltre 40 anni di storia nella gestione della Customer Experience, Teleperformance continua ad innovare e guidare il settore. In un mercato altamente competitivo il nostro focus è formare la migliore Customer Experience attraverso la nostra strategia incentrata sulle persone, l'innovazione e le soluzioni omnicanale.
Il meglio deve ancora arrivare..
Di seguito il commento di Daniel Julien e Paulo César Salles Vsques
"Dear Teleperformance Team,
We are really happy to announce that Teleperformance earned an exceptional leader´s ranking for Call Center Outsourcing by the highly respected and independent Everest Group on its 2016 PEAK Matrix global industry ranking study. In short, this means we have been named the very best company in our industry in the world!!!
This special achievement simply would not have been possible without the hard work, dedication, and innovative service that each and every one of you delivers on behalf of our clients.
According to Everest, Teleperformance, globally outperforms all other major contact center outsourcing companies overall:
We are especially proud of this recognition because it reflects everyone's continuing hard work around the world. It means we continue to surpass external performance expectations together as a real global family. Our goal is to ensure we always deliver great results by focusing on our people; while we all know there is always room to improve, this ranking shows we are on the right track. So you can be assured we will continue to invest and support our more than 190,000 professionals everywhere .
A big personal Thank You and Congratulations from us to each of you for everything you do and for being part of the Best Team of our industry in the entire world!"